We are coming up for 8 weeks on the road now – a decent length of time to figure out what works and what doesn't. We have done 8700kms since March 31st, and we are averaging a spend of about $1000/wk – broken up as $230/wk – diesel, $170 eating out, $160 groceries, $130 campsites and then the rest is the more random stuff of life, such as dead car batteries, running repairs to caravan, chemist scripts and the like.
So far the big cost has been fuel because we have done so many kms so quickly. I don't think this will change as we go forwards. The car gets about 16-17l/100kms – less on flat stretches and much more in Tasmania. We do eat out a bit and that is a bit of our 'fun' so I doubt that will change! We free camp where we can and its probably been 2/3 free and 1/3 paid for – which is a good saving. I'm sure we could do it cheaper, but we want to have decent time – not just a cheap time 🙂
I have tried a few new products and tools while on the road so if you're a traveller too then this might interest you.
San Hima Towing Mirrors – I didn't want to spend the $900 or so on Clearview mirrors so we went with this option. Same idea – you extend it to tow and other times push it back in. I knew that attaching towing mirrors every few days was gonna get old fast, so I fitted these before leaving. They are great for towing, easy to slot in and out and just as easy to fit in place of the old ones. The down side is that the bottom mirror is useless for pretty much anything and there are some serious blind spots with these that I didn't have with my stock Holdens. I will be changing back to my old mirrors when I get home as its just too hard driving with these. But for travelling – yeah they're good. (They do fold in – if you are prepared to exert some real grunt!)
Bluetooth Tyre Pressure Sensors – I have tried two different types and both have failed. I had the TPMS kind on the car for a while until one of them failed. They sent me a whole new kit straight away which was good, but in 8 weeks 3 have failed again. Not sure why but I can't be bothered messing around with them. The idea is good and would be even better if they worked. The sensor sends a message to your phone / app with the tyre pressure, but as you can see below, I am only hearing from one tyre. I don't think it's a battery issue as I have changed batteries before.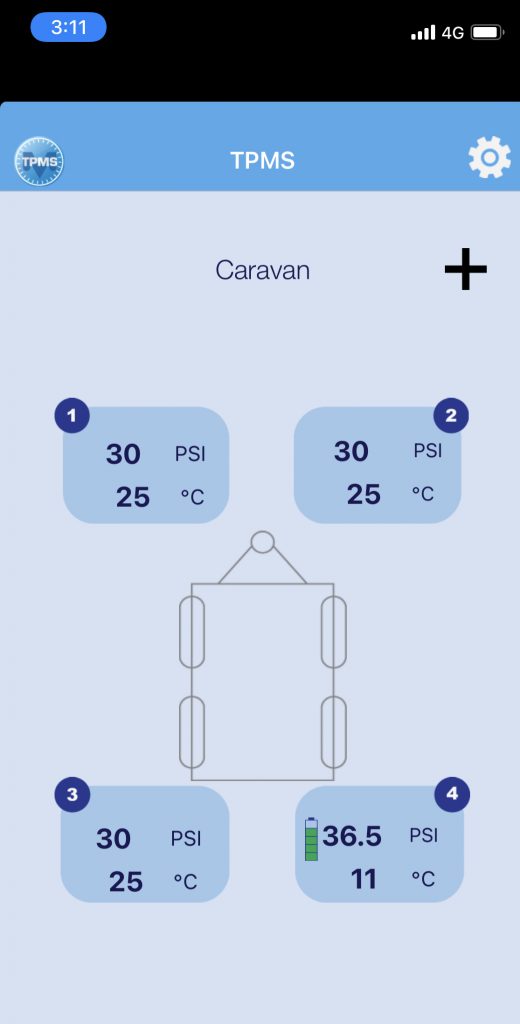 Then there are the OBD2 variety which I am using in the car. These were great until one by one they stopped registering on the screen, then the monitor itself died. They lasted 7 weeks. A new monitor is being sent now so I'm hoping these will do the job. I value the info, but can't be bothered with items that are so fickle. When it comes to these, I can't recommend either brand yet, but we will see what happens with the new monitor…
BEST Water Filters – I don't drink that much water – prefer coffee – but Danelle is a big water drinker and notices when the water is 'ichy'. So I saw these in a Youtube clip and figured we would gamble the $120 or so to try and get decent water. Apparently these are the duck's nuts and the water tastes great. So it seems it's money well spent – and very easy to use too.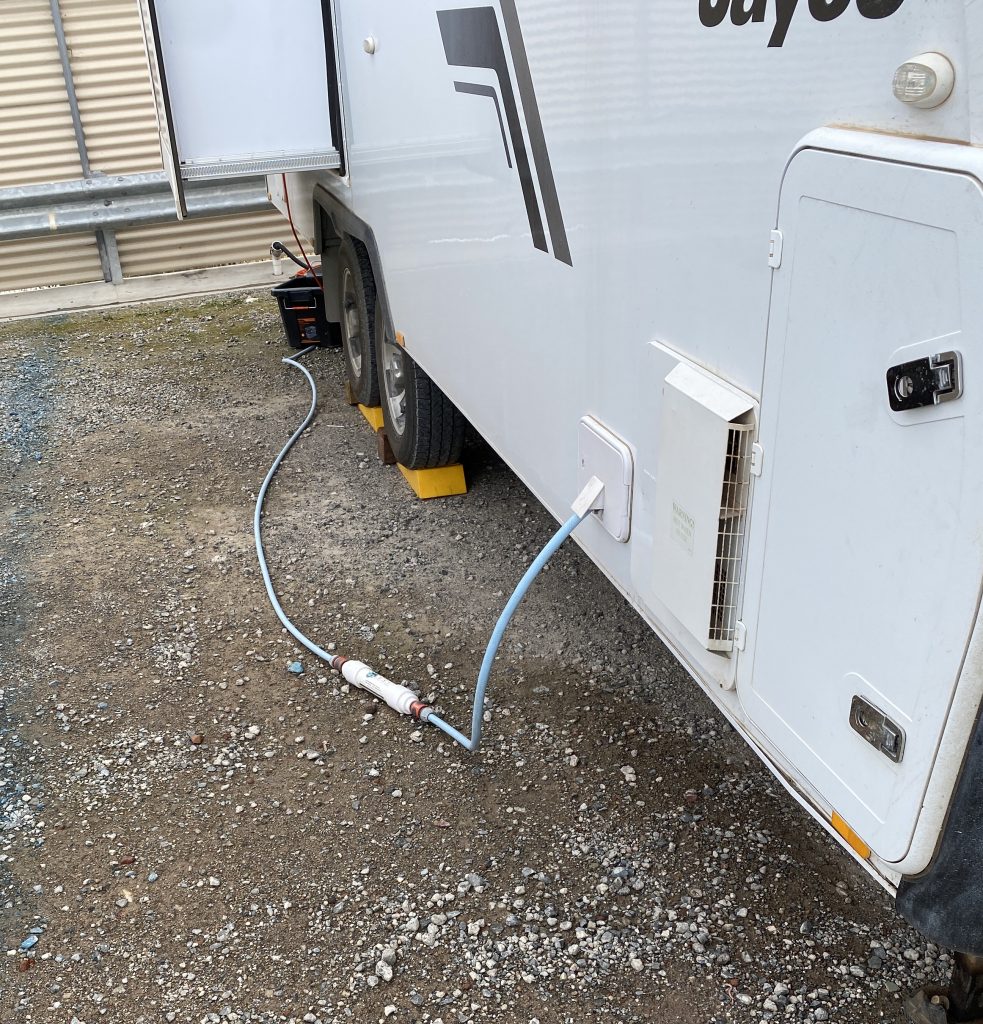 Companion 2.0 Kva Generator – I never thought I would be a generator owner… but on the back of some very cloudy days where our solar just couldn't generate enough power, we relented and bought a gennie. I had scouted for a second hand Honda, but finished up getting a 'Companion' from BCF, $900 on special (looks like they were clearing them out) and 2 yrs warranty. I may sell it when we get home but for now it gets us out of a bind. It does have some cool features that some others dont: a) you can travel with lying down as per the pic – just gotta close off the fuel b) you can control it via an app which means you don't have to keep running in and out of the caravan if its cold and wet. The trick with this is that the battery isn't connected when it is sold so you have to remove a panel and do the connect up. Not hard, but I wasn't aware of that issue. So far it has run well and been reasonably quiet. We can also make a coffee off it so that is pretty cool.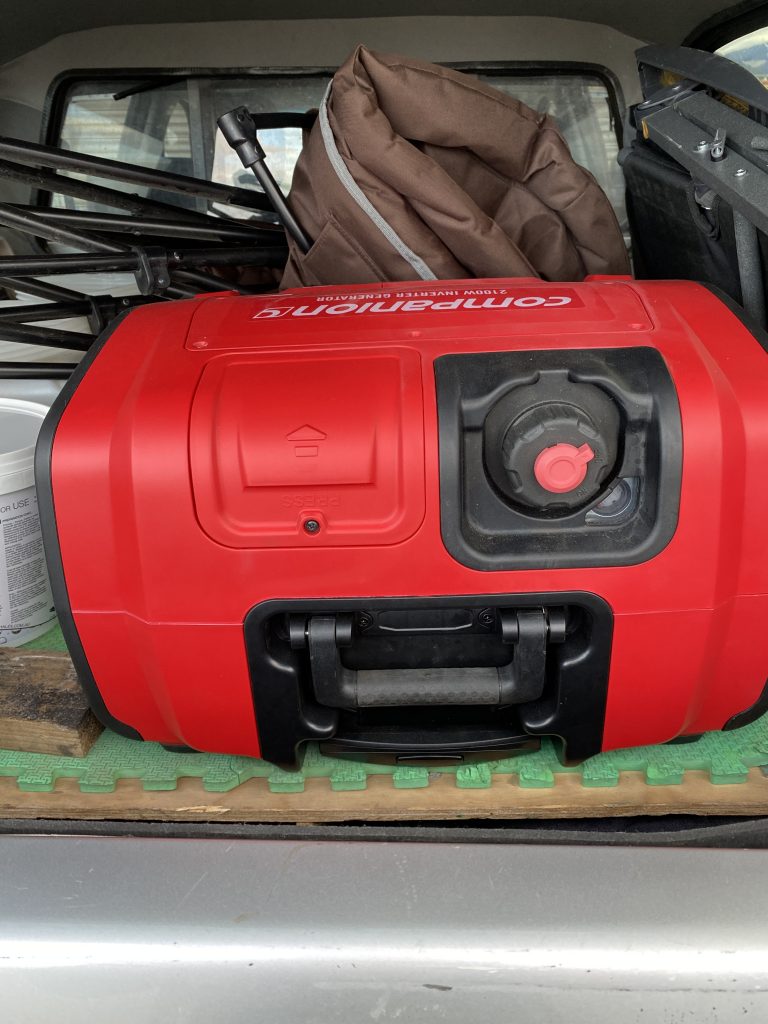 Ecosa Inverter 2000W – This was a $200 ebBay gamble and in short it has been ok… I don't think it will ever come close to 2000W output, but I bought it in preference to our other one because you can wire up a 'remote' switch to the side of the bed rather than having to lift the bed every time. I also connected up an RCD protected double powerpoint to run from the inverter. So while I don't think the inverter is anything special it is adequate for what we need. When I get home – or even somewhere warm – I may look at wiring into the mains of the van and making every powerpoint potentially inverter fed.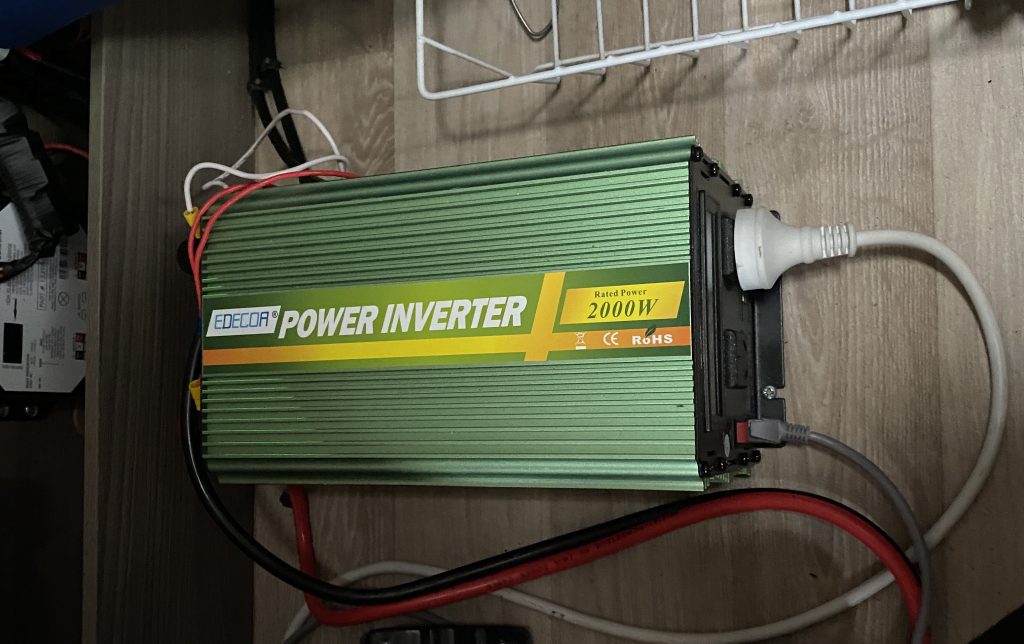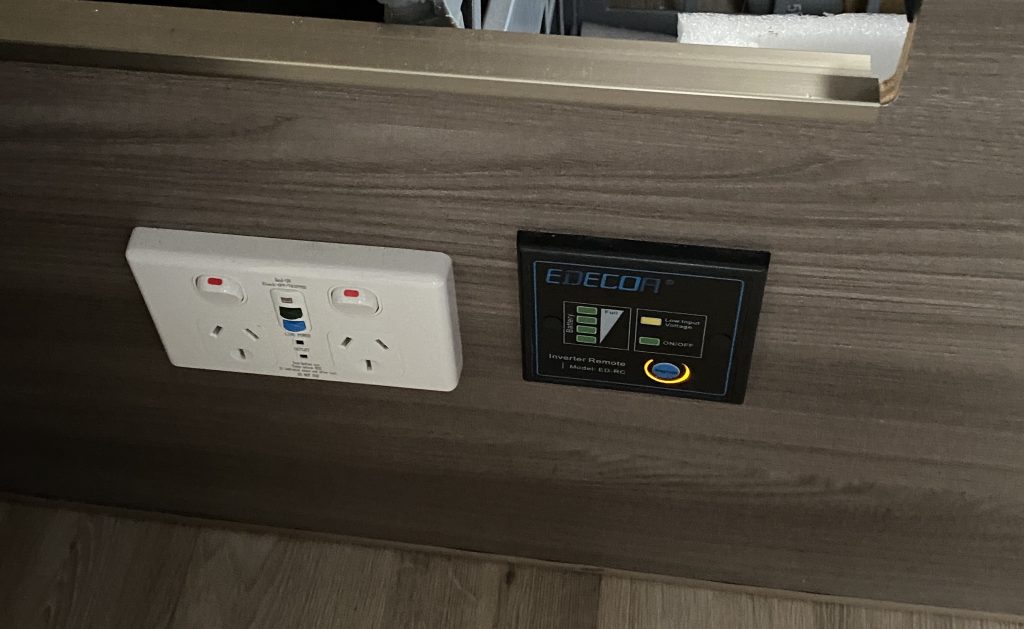 Falken Wildpeak All Terrain Tyres – I fitted these the day before we left and so far they seem to have worn fine and given us no noise issues. I rotated and balanced them again this week and all is good. They feel fine in the wet and with the van on the back, so other than that they just seem like a ok tyre.
Ok – so that's it for now!
We are hoping to get out of Tasmania on June 6th and enter Vic. If its still in lockdown then I think we will be heading straight for the northern NSW border and getting out of the state before we get out of the car! I'm hopeful it won't be in lockdown, but my hunch is we will have to bypass Vic altogether…