What does it mean to be 'unequally yoked'?
Historically this term has been used to disallow Christians either marrying or forming significant partnerships (eg business) with non-Christians. I have always seen this as a fairly stock standard evangelical idea in regard to marriage. I would hold it less tightly in regard to business partnerships and other relationships.
However the other day I met someone who asked a question that has me pondering…
After a marriage to a Christian that ended badly, this person would now seriously consider marrying a person who is not a Christian, but does have some genuine sympathy for who Jesus is and who is living a life that resembles Jesus'.
This person would say that in their first marriage they actually were unequally yoked despite the partner being a professing Christian. The partner did not live a life that took the teachings of Jesus seriously and actually lived contrary to scripture in many ways.
The person would argue that they would be more 'equally yoked' with a Jesus-like non-Christian than with a non-Jesus-like 'Christian' (and we all know there are plenty of them around!) It would be better to be married to a muslim who lives like Jesus or a buddhist who embraces Jesus teachings than a Christian who doesn't…
What do you think?
I won't give any details on the person's situation as I want to protect their identity, but I'm interested in your opinion. I will say that I have no doubt as to the integrity of the person's faith or to their commitment to living in the way of Jesus.
So…Is it always 'wrong' for a real deal, Jesus following, 'card carrying' Christian to marry a person who lives like Jesus, but would definitely not regard themselves as a Christian?
And… Can you be unequally yoked with a Christian?…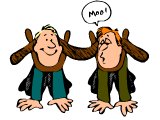 Here is the relevant passage from 2 Cor 6
14Do not be yoked together with unbelievers. For what do righteousness and wickedness have in common? Or what fellowship can light have with darkness? 15What harmony is there between Christ and Belial? What does a believer have in common with an unbeliever? 16What agreement is there between the temple of God and idols? For we are the temple of the living God. As God has said: "I will live with them and walk among them, and I will be their God, and they will be my people."
17″Therefore come out from them and be separate, says the Lord.
Touch no unclean thing,and I will receive you."
18″I will be a Father to you, and you will be my sons and daughters, says the Lord Almighty."
We buggered it up plenty in the past by insisting that Christians 'come out and be separate' from the world and creating Christian sub-cultures rather than being integrated in the world. Is this concept also a mistake that we should throw out?…