Well that was a unique experience…
I got into Meekatharra airport at 3pm on Friday and was met by the local 'Vet' who picked me up and took me out to 'Paddy's', some local single mens accomodation. He showed me the 'parade ground', (imagine carpark with patch of grass, cross and flags!) talked me thru the service and then dropped me at my motel – the 'Commercial'. You can see it in the pic below.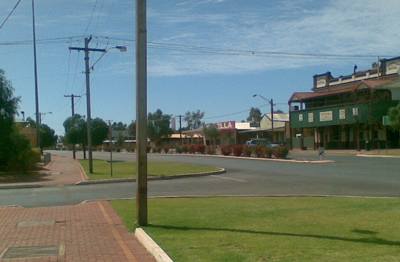 I went for a walk around town to get a feel of the place. That took the best part of 5 minutes… On the way back I saw this sign. The bottom line reads 'best coffee in 400kms' but I discovered the shop had shut down, like many of the businesses in town. The pub I was staying in had bought the coffee machine…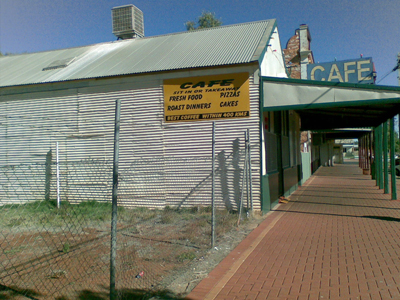 So that was the end of the road for coffee… My room was decked out with sachets of International Roast, but I'm afraid those feral days have long gone. So it was destined to be a weekend for tea (and beer)
Friday night was best described as noisy. The local aboriginal crew had a party in the street next to my motel unit and judging by the amount of alcohol that left the pub earlier in the evening they were planning on being there for a while. I last heard them at about 3 am… By that time Collingwood had downed Melbourne and I was half way thru Hieberts's Anthropological Insights for Missionaries, reading about how cultures are not always right or wrong, but often just different… I wasn't enjoying the difference!
'G' picked me up at 6am for the dawn service and we drove back out to Paddy's on a very brisk Gascoyne morning with all windows down so he could finish his smoke. I was just about frozen solid by the time we got there. It was a small crowd – only 40 or so and a bit disappointing for the organisers who obviously valued the event highly. It reminded me of those church events we used to run where the faithful would show and you'd look around and notice who the slackers were who hadn't made the effort and weren't prepared to suffer like the rest of us!
Those present were a really good bunch – all the solid salt of the earth types – I mean who else is going to get up at 6am after a night on the turps? 'C' called us to attention at 6.30am and we rolled from there. My spiel seemed to go down pretty well as it got a fair bit of feedback over breakfast and an invite back up for Remembrance Day.
'What's the deal with Remembrance Day?' I asked.
'C' being a man of few words responded 'Its bigger.'
'Right… Well that's all clear then' I thought! He was obviously still smarting from the poor roll up.
I hung around, had a great brekky and enjoyed chatting with the locals until 9.00 when I discovered I was one of the only ones left who didn't live there. 'G' & 'C' couldn't drive me back to town because they had already had a few drinks, so a young girl gave me a ride back in and dropped me at the motel.
I didn't see those guys again until they picked me up for the plane this morning, so I was left to figure out what to do in Meekatharra given that my only mode of transport was walking. The rest of the weekend was a blend of reading, watching the footy, napping and eating and drinking.
With no mobile phone coverage and no internet it really was a break. After a very lazy day on Saturday, I decided to use Sunday as a spiritual retreat, but after an hour got distracted and gave it away. "Bugger… Not very spiritual" I told myself. I watched the footy instead and read the newspaper and felt a bit guilty…
That evening I was drinking at the bar when the SU drama crew walked in. Familiar faces! This introvert was ready for some company so we got to eat dinner together before I retired to my room to watch more television. Did anyone else see Compass and the episode on 'Happiness'. There was some good stuff in there. You can read the transcript here.
I did
get to try that coffee though…
'How's the coffee here 'J'?' I asked on Saturday afternoon in the pub.
'Good mate' he responded confidently. I watched a foamy cappuncino get served to another customer so thought I'd risk it.
'A flat white mate' I said.
You can see the result below… I don't think its the best coffee in 400kms any more! It didn't taste as good as it looked and I finished up tipping it. Thankfully all meals and drinks at the pub were covered by the Vets and while the coffee was a tad below average the food was great and I have to say I overate all weekend.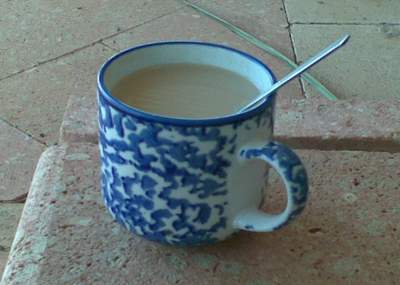 So, it was a peaceful weekend, punctuated by some great conversations with some interesting people who were either visiting Meekatharra, had lived there their whole lives, or were part of a work crew.
Occasionally you ask yourself, 'what was the point of all that?' and sometimes you just have to say 'I don't know…' Was there a bigger picture beyond helping out a few decent people with a memorial service?
Maybe…, but then again maybe it was just good to be there and live in a different place for a short time too and see a different side of life.
Quite seriously, if any of you are interested in doing the Remembrance Day gig then let me know and I'll give you the details. I know they will struggle to get someone up there. I did a 'freebie' for them, so long as all the expenses were covered. The criteria was 'someone who is spiritual, but not too religious'. Its a pretty easy qualifier… So if you don't mind being on your own for a while then it could be for you.
Anyone fancy a weekend in Meekatharra?!…
You know you want to!…