One of the things I am really enjoying about the experience of leading a church community at the moment is the opportunity to learn and experiment myself.
Today was our 'prayer and planning' day, where we set aside time to listen to God, listen to each other and hear where God may be taking us in the coming year. We have been doing it for a couple of years now and each time has been a little different. I think that's good because it hasn't become a formulaic process with predetermined outcomes.
I am very conscious of who we invite to these days. For us its an 'opt in' day where anyone who sees this church as their local expression of faith is welcome to come and participate. It isn't for leaders, 'members' or those who have been around for a certain length of time. By making it purely 'opt in' you end up with those who really want to be there – and who are keen to be part of the process. I'm sure some would have liked to be there today, but couldn't, but for the most part, these days reflect who the key players are in the life of a church.
One of the things I find perplexing about church planning days is the sense of need to arrive at concrete outcomes that we can action for the next year. Personally I don't think we have to do this, but I am concious that some feel the day hasn't been time well spent if we haven't decided on 'new stuff to do'. By the same token I am very much for concrete outcomes if they are stuff that God is leading us towards (atlhough I think that in the absence of genuinely hearing God we tend to invent stuff so that we can justufy our existence). Easy to do with our evangelical heritage.
I wonder, what if God said 'I don't want you to do anything new'? What if God said 'all good – just keep rolling'? I think we tend to find that scenario a little hard to imagine. I certainly have in the past. But maybe he does that some days.
As I was reflecting on the process we would use for today I felt it would be valuable to :
– reflect on our history – to tell the story of where we have been – where we have come from to be here today (a very biblical process actually) and in doing so observe the fingerprints of God over our community. I always find this valuable and we enjoy sharing the story together.
– give thanks for what we have – because acknowledging how good things are, helps us kick off with gratitude and an awareness of God's goodness to us. There was plenty to be grateful for and that is healthy.
– listen for what God has put in our hearts. I am convinced that our future flows out of our passions more than out of cold, formal planning. We reflected on the story of Nehemiah and how he felt compelled to do 'what God had put in his heart.' I don't want to try and put stuff in people's hearts and I don't want to simply push people into stuff that isn't in their hearts, but I have a strong sense that if we listen to what God has already put in our hearts then we will likely find the next steps come easily. We split into smaller groups to answer the question:  "Where do I feel energy and where do I feel the stirring of God in me for the greater good of the church and his kingdom?" In other words what is firing in YOU?
– listen to one another and listen to God – from this smaller group discussion we came back together to hear what God is stirring in us. For some it was easy to articulate, while for others it was a little less obvious and that is fine. As we talked we heard what God was firing up in people, we heard what was important… And from there we took time to listen to God to see what he may have been saying.
– break for coffee – I don't think you can ever underestimate the value of the 'break' in these kinds of gatherings. People can only focus for so long, but in the break what has been discussed often percolates and brews ready for the next interaction.
– distill – we came back to distill what we were hearing and interestingly it was less about  things to 'action' and more about the priority of keeping Jesus central in all we do. I guess you say that's stupidly obvious… and it is. Except that I sensed what God was saying to us was that we are to find contentment and purpose in simply this and we are to hold this as our top priority. I reckon that's a little piece of gold.
– consider practical actions – as we agreed not to actually choose any specific actions a discussion began around how we are gathering in smaller communities and what flowed was an awareness that we need to create some different spaces for people to connect and experience church. Before the day had ended one family had said 'we want to do this – this is what God has put in our heart'. Another person wanted to gather our worship crew to help them focus and reflect on how we worship together – yet another practical outcome that flowed from what was in a person's heart rather than from cold strategic planning. I am sure more will flow as people listen to what God has put in their hearts and as they respond to him. And that's how I'd like it to be…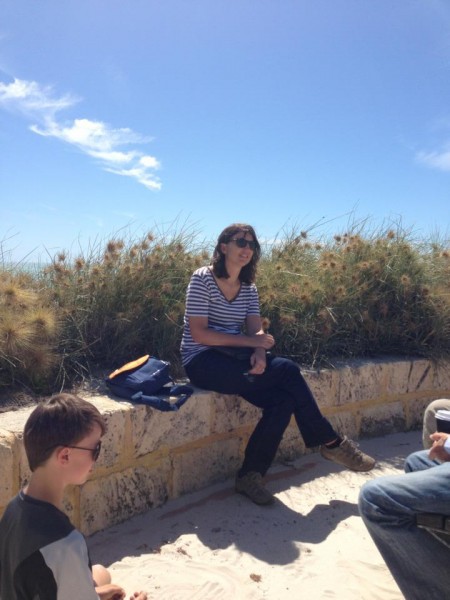 The day finished with lunch and then flowed on into coffee for a few of us as sat by the beach and enjoyed the beauty of being the church together.
It was another day to give thanks for the community we are part of and to observe again that if we pay attention to Jesus and listen for his voice, then he can do a pretty good job of leading his church.