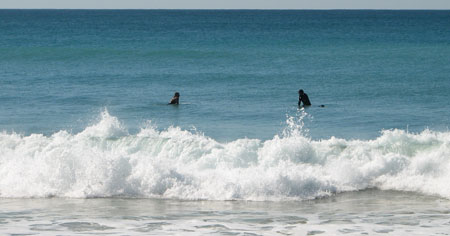 As I was surfing today another bloke paddled out and we got chatting.
He was an 'old bloke' too and happy to share waves and generally enjoy the beauty of the morning. We spent about an hour in the water at the same time and found out quite a bit about each other in between waves. I was enjoying the conversation and the engagement.
He told me he lived just behind the dune and asked if I wanted to come back and see some images of the beach at its best. His mate is a photographer and snaps some great pics around the Coffs area. Do you know what my first response was?
Well actually it was 'Yeah – I'd love to'…
But… it was followed by a series of questions.
– Why would he invite me back to his place when he hardly knows me – in fact he's only just met me?
– Is he getting a commission from the photographer?
– Is he gay and hitting on me?
Pretty tragic hey?…
It was a good bloke doing a decent thing and being second guessed by another bloke who has been conditioned to think the worst of people – that he might not just be offering coffee and the shared joy of seeing some great pics – but he might have an ulterior motive.
It really pisses me off that we have got to this as a society where 'goodness' is second guessed and acts of kindness are treated with skepticism.
Whatever happened to the kind of world where people could just make friends, invite them home and enjoy the moment?
We are a sad suspicious bunch now aren't we?
For the record, I went, we had a tea (still a fussy bugger when it comes to coffee) and he showed me some magic images of his backyard, as well as giving me some great tips for where to go while we are in the area.
Thanks Mark – you have inspired me to live differently in my own backyard.
And if you're interested you can see the images here