Its been said that 'where you stand determines what you see', which is why theology in a western context often looks very different to perspectives from other more impoverished or persecuted parts of the world.
Equally the lens you read the Bible through determines what you see and how you understand what you see. I recently ordered Greg Boyd's new book, Crucifixion of the Warrior God, a 1492 page tome looking at how we reconcile the violence in the OT with the non-violent Jesus – assuming that we hold a strong view of biblical inspiration and don't just toss out the hard bits.
Boyd's lens seems to be the 'God who is revealed in the crucified Christ' and after watching this youtube clip I get a sense of what he means by that. Essentially he is saying that if we now have this revelation – this information on who God is – whereas those before Jesus time didn't then we have a lens for looking back on that historical information and interpreting it more intelligently. He suggests the violence attributed to God by the biblical writers is not actually God at work, but may be God allowing others to act in that way. (Watch the clip for fuller explanation).
I'm curious to see how he develops this thinking – and also why he stops at the 'crucified Christ' rather than ' the crucified and resurrected Christ'.
In recent years my own primary lens for approaching the difficult passages of scripture has been via the premise that 'God is good'. Its the foundation stone of all of my theological thinking. If God is good then I have to be able to understand various events in light of that truth – or I can live with them as mystery knowing that God is good. (And if God isn't good then we're in some pretty deep poo…)
Lately I've pondered some difficult questions that don't have any easy answers and without a strong primary lens I imagine a thinking person's faith could unravel. I have just come back from my brother in law's funeral, where a good, faithful man suffered for 9 years with motor neurone disease and then eventually died. You have to ask questions of God's character in those situations. People were praying for his healing to the end. He didn't 'curse God' and walk away, but when all was said and done he suffered and died. So maybe God is a heartless jerk?…
Or maybe God doesn't see, doesn't care, doesn't care enough?… These are all very fair questions. Maybe God is 'working all things together for good'?… Well… yeah… but really? He couldn't have found a better plan? Is he God or not?
If God isn't good then Graham's death was a senseless waste of life and a tragic loss for his family, but if God is good then there must be another way of looking at that situation – not to minimise the pain, or trivialise it, but to ask 'what is going on that we can't see?' The answer may be that 'we just can't see it' and we have to live with that.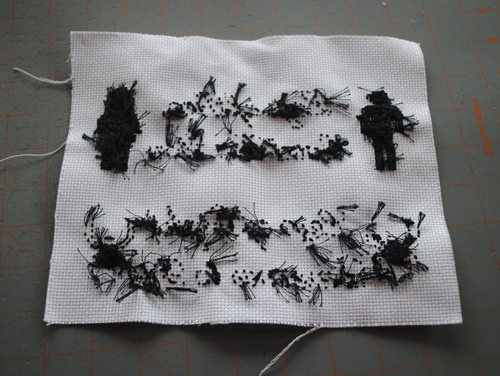 At the funeral one of the images shared in a eulogy was Graham's own take on life as a bit like a 'cross-stitch' ie. what looks like a complete mess of fabric and knots from one side is actually a coherent and beautiful picture from another side. With limited perspective we can only see part of the picture.
I can sit pretty well with mystery, but I have always found the OT slaughter passages a bit of struggle because even the best answers have left me somewhat 'meh'. So here's hoping Boyd has a take that allows me to put that one to bed and in the process gives a lens for viewing the dark times of life.