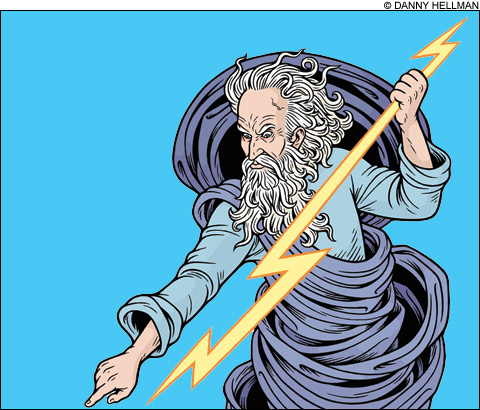 As a church we have been working our way thru the book of Exodus and reflecting on the issues of following God as a community.
This week we land up in the one of the most crazy chapters of the entire OT – Exodus 32. Its the story of how Moses is away up the mountain with Joshua getting the 10 commandments and while he's gone the people ditch God and set up a golden calf to worship.
It has some great insights into our foibles and frailty as people, and it offers a great contrast in leadership approaches (Aaron and Moses) but it also raises some serious questions about the nature of God. And they aren't easy questions. I've spent a couple of hours this morning just reading and thinking and pondering how to hit it.
Here are some of the issues:
vv9-14 is a conversation between God and Moses where God wants to completely obliterate the people and Moses goes into bat for them. In this conversation it certainly seems like Moses talks some sense into God – to put it crassly… God is losing the plot with anger and Moses says 'chill… that aint such a good idea… remember the plan?… covenant?…' And God says 'oh yeah… ok'.
You have to admit that it does read a bit like that… no?…
Then when Moses comes down from the mountain and sees all that's going on he has his own meltdown. He really loses it and burns up the calf, grinds it to powder and makes the people drink it. You can literally feel the intensity of his anger.
After calling the people to make a choice he sends out the levites under God's orders to wipe out the rebels. The story reads:
Then he said to them, "This is what the LORD, the God of Israel, says: 'Each man strap a sword to his side. Go back and forth through the camp from one end to the other, each killing his brother and friend and neighbor.'" 28 The Levites did as Moses commanded, and that day about three thousand of the people died. 29 Then Moses said, "You have been set apart to the LORD today, for you were against your own sons and brothers, and he has blessed you this day."
God orders the Levites to go around and kill their brothers/friends/neighbours… Harsh?… I think we'd all agree its pretty extreme measure.
After this Moses tries to get God to let up on the rest of the people and even offers himself in their place. The chaptr ends:
The LORD replied to Moses, "Whoever has sinned against me I will blot out of my book. 34 Now go, lead the people to the place I spoke of, and my angel will go before you. However, when the time comes for me to punish, I will punish them for their sin." And the LORD struck the people with a plague because of what they did with the calf Aaron had made.
Now much of how you interpret / teach this passage will depend on your pre-existing theological framework. Some would argue that if God is holy then this is a natural outcome. Open theists would see this as a classical example of God changing his mind.
But I can't help wondering how you would explain it to people who don't have any faith, or who view Christianity with some skepticism. It can appear as a pretty bizarre and disturbing story.
I could just focus on the issues of idolatry, rebellion and leadership, but you simply can't read this chapter and not be challenged to wonder what God is like.
Love to hear your reflections!