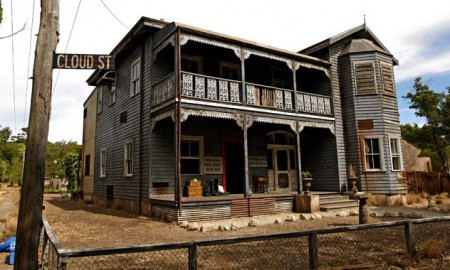 One day all will be restored and made new…
The sick will be well, the blind will see and old enemies will be friends…
A day is coming, maybe even sooner than we know when we will see God's dreams for this world realised. It is more beautiful and spectacular than I can contemplate here. Its that vision that still gets me out of bed in the morning and that fuels my hope. That one day we will 'gather by the river'…
Until then we soldier on. We keep going and we live with our brokenness and darkness. We find hope and goodness and light but we know all is not as it should be… as it could be.
'People aren't born broken.'
So goes the description of Dolly Pickles, wife of the larrikin, gambler Sam and the town drunk. Dolly is one of the less likable characters in Tim Winton's Cloudstreet, and she stays that way until we get to hear of her upbringing and the lack of love that formed her. When you hear Dolly's story you begin to understand and even feel for her. She got dealt a very bad hand…
I've just finished watching the DVD series of Cloudstreet, possibly my favourite ever novel and I found it a beautiful story yet again. It's a tale of family and of love and of pain and of stickability, but especially of our brokenness and the longing for healing.
Each of the characters are flawed in different ways. What's odd is that you like them anyway – because you get to hear why they are living the way they are. They aren't just jerks. They are people who are struggling with life – battling to overcome their failures, and the difficulties. They are doing it tough.
Oriel Lamb is a classic. A woman wounded by grief on all fronts, who watched her family die in a bushfire, then 'lost' her son in a near drowning. ("Fish came back – but not all of Fish came back…") But she is determined to keep going no matter what. We hear Oriel say:
'Strong people endure because that's all life leaves you – that and being right.' So she does – she endures all the pain life can throw at her and despite it making her terse and abrasive she doesn't quit. In fact she chooses to wage war on badness in every form and she crusades against the evils that come near her world. I think it was CS Lewis who would have described her as 'good in the worst sense of the word'. Hardly life in its fullness but it's all she knows how to do. ..
As I reflected on the story it was the resilience of all the main characters that actually saw them find hope in the end – that and the ability to forgive. And I reckon there's a pearl there. There were plenty of times the families 'should' have been torn apart and had the story been set in 21st century australia perhaps they would have gone their separate ways, because its more permissible.
But in a world where divorce was really not an option they hung in and worked it out. They even found healing for one another as they stuck it out. Their lives are at times tragic – but probably not more so than our own. That's where Winton is so clever. He tells the story of 'other' screwed up people but you can't help but read yourself in the story. Ha… you find yoursel choking back a tear not just because you feel for the characters but because you see your own murky life reflected in their pain.
The spirituality throughout the series is fuzzy and eclectic, but the final scene is a beautiful one. I forget how the novel ends but the DVD concludes with the two families – the Lambs and Pickles – enjoying a picnic at the river. Sam's hand has healed… Everyone is enjoying being together. Two young aboriginal girls who had suicided in the house play in the river alongside the white kids, Ted (who also died) is resurrected there with his wife and kids and all is well. All is good and what you imagine it would be like in the kingdom come.
Fish takes off for a swim – the swim he has been longing for – and it is good… even though he 'dies'. He has been waiting so long for this…
Subtly but clearly we hear the narrator tell us of ' the river – the beautiful the beautiful the river' and you can't help but see beautiful hope as the 'saints' gather by the river.
And some don't seem so saintly and some really don't deserve to enjoy the river, but then maybe that's just how it is… Winton grew up in my own flavour of conservative evangelicalism so he knows what he's writing even if many won't pick it.
Yes, we'll gather at the river, the beautiful, the beautiful river; gather with the saints at the river, that flows by the throne of God.
And one day we will…
One day…