We have been gone a bit over a week now and spent a week in Northern Ireland as well as a few days now in Menorca where we are until Sunday.
It was interesting landing up in Belfast again. I left when I was 10, went back once at age 33 and now this time seventeen years later. I was curious as to what I would feel… would it be 'home' in some sense? What would I feel at being back in my birthplace?
Not a lot as it turns out… and that's neither a bad thing nor unexpected. I actually had this conversation with my cousins husband:
'So what is this for you now? Have you come home?'
'No… now I'm a tourist. Happy to sniff around, enjoy the country and see the sights, catch up with family (most of whom I hardly know ) and generally do what visitors do. '
It's a reminder that home is more than a physical location. I think it is a physical location, but these days it has more to do with being around my own family, of being where God wants us and of feeling settled in that 'place'. I find it hard to envisage leaving Yanchep or our church community, of starting again somewhere else… but I realise these are all possible. And because 'home ' is more than location I'm sure it would work.
It was really good reconnecting with family on both sides, cousins and uncles /aunts I wouldn't know if I met in the street, but good people. I drove the kids past some of the old haunts – my home, my dad's home, my school, my first church and I think we all felt a bit 'meh' about it. They lacked the significance they once had.
We enjoyed driving around and being tourists, seeing mountains, oceans, line upon line of dry rock walls, grey skies with fleeting moments of sunshine and a city that was unfamiliar, but curious in many ways.
We watched the July 12th marches from a very safe 'middle class ' vantage point (not my preferred location) and took some time to discuss this cultural and theological oddity. (I have more thoughts to come on this when the mood is more conducive ). Sam decided to voice his opinions over dinner with my aunt and we all realised that maybe it wasn't dinner time conversation.
The cultural and spiritual nature of Northern Ireland is well worth a post on its own and I will do that once I have had a chance to process it better. It is still heavily churched, but with the complicating issue of the political situation. I wonder if the Irish will ever move beyond the old divisions and be able to live together harmoniously? My 'outsiders' take is that given another 500 years they may just do it.
In my rovings I discovered the Corrymeela Community who from their website seem to be a crew doing some good work on this front. If time permits I'd like to drop in and see what they are doing first hand. I imagine it would be an interesting place to have a sabbatical. I'd be very interested to delve into the issue of reconciliation in this place, buy I imagine it is long slow and generally unrewarding work.
In other less provocative news I have worn shorts every day since arriving and while it's been cold at times its also been good weather for exploring.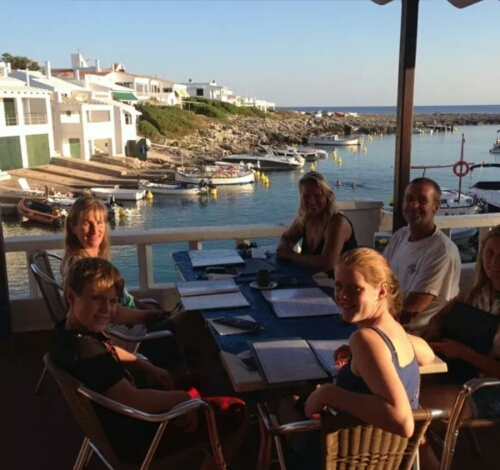 I've definitely disconnected and enjoyed places, people, books and reflection time. We have spent the last few days with old friends in sunny Menorca, a nice little island in the Mediterranean. It isn't somewhere you would ever venture to as an Aussie usually so it's been good to hang out off the beaten track.